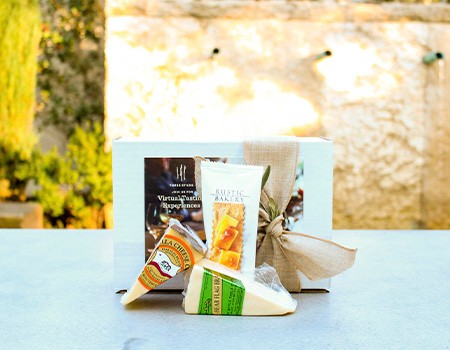 Virtual Cheese Pairing Kit
---
Enhance your virtual tasting experience with a selection of local cheeses chosen with our latest Three Sticks offering in mind. Box curated by local Sonoma business, Sonoma Food Tour.
Box includes:
1 quarter pound wedge of Mezzo Secco from Vella Cheese Company
1 quarter pound wedge of Italian Table Cheese from Vella Cheese Company.
2 individual bags of Rustic Bakery Sourdough Crackers
To purchase your cheese kit, please click here.
*Please allow up to 2 weeks for ordering. Larger sized boxes available. Please reach out to virtual@threestickswines.com to inquire*


Club Allocation membership offers unique benefits for our supporters to get the most out of our bi-annual releases in the spring and fall, with the opportunity to acquire additional wines throughout the year during our Rosé, Pinot Blanc, and Casteñada Releases.