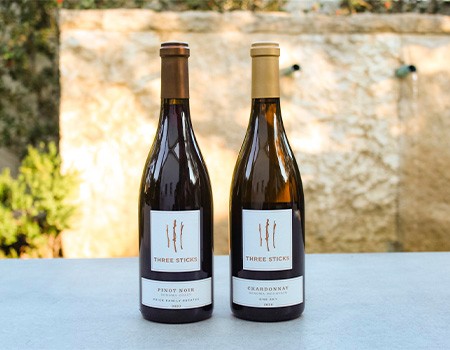 Virtual Grand Cru Kit Spring 2022
---
This experience takes you on a virtual trip to wine country with Three Sticks to get to know some of Sonoma's legendary vineyards. You will be guided through a multimedia tasting of our wines including videos from the vineyard and comments from our winery team. A tour of our historic home, the Vallejo-Casteñada Adobe, will follow this educational and interactive Three Sticks tasting.
Here's how our virtual tasting works: We'll ship a selection of wines to your home (see below—no substitutions, unfortunately!). Once you've received your kit, our concierge will be in touch to schedule your virtual at-home tasting based on your preferred day and time. These will be hosted via Zoom and will include a tour of our Adobe home along with a guided tasting of the wines in your shipment.
Wines included with each kit:
2020 One Sky Vineyard Chardonnay
2020 Price Family Estates Pinot Noir
Thank you for your interest in our virtual tastings! All of our kits are fully allocated at this time. Should you wish to purchase a virtual tasting kit, please reach out to us at virtual@threestickswines.com to inquire.


Club Allocation membership offers unique benefits for our supporters to get the most out of our bi-annual releases in the spring and fall, with the opportunity to acquire additional wines throughout the year during our Rosé, Pinot Blanc, and Casteñada Releases.